In 2007 George Lewis and Douglas Ewart very kindly asked me to collaborate with them on a re-imagining of their 1992 sound installation Rio Negro for the Black Light White Noise: Sound and Light in Contemporary Art show at the Contemporary Arts Museum Houston (May 26 - August 5, 2007).

In 2015 we made another version of the piece for the MCA Chicago's show "The Freedom Principle: Experiments in Art and Music, 1965 to Now" (Jul 11 - Nov 22, 2015). The show will travel to the Institute of Contemporary Art at the University of Pennsylvania, September 14 - December 31, 2016.

Douglas Ewart built the rainsticks and chimes and decorated the wooden stands and motors. George Lewis composed the computer-based soundscape. I designed and built the wooden stands and robotic mechanisms for the rain sticks and chimes. We all worked on the layout and construction of the paths, islands, and structures.

The wall text from the 2015 version (which we didn't write) reads:
Douglas R. Ewart and George Lewis are both longtime members of the AACM. In 1992, the two joined together to produce Rio Negro. That first version was commissioned in Chicago by Experimental Sound Studio, a long-standing nonprofit organization. It was presented at the now-defunct Randolph Street Gallery. In 2007, Ewart and Lewis collaborated with sound artist Douglas Repetto on an enhanced version of the sound environment, which appears here.

Rio Negro II consists of rain sticks and chimes, among other elements. They are all orchestrated by robotic mechanisms. The rain sticks, a key component of the installation, suggest the instruments of indigenous Americans, such as the inhabitants of the Rio Negro basin in Brazil. The audio-kinetic installation also resembles a Zen garden with its clusteres of bamboo. Overall, the work seems to cut across time, mixing a hint of the ancient with the technology of today.
(Thanks to Tali Hinkus, Jon Kessler, and Douglas Ewart for video editing advice!)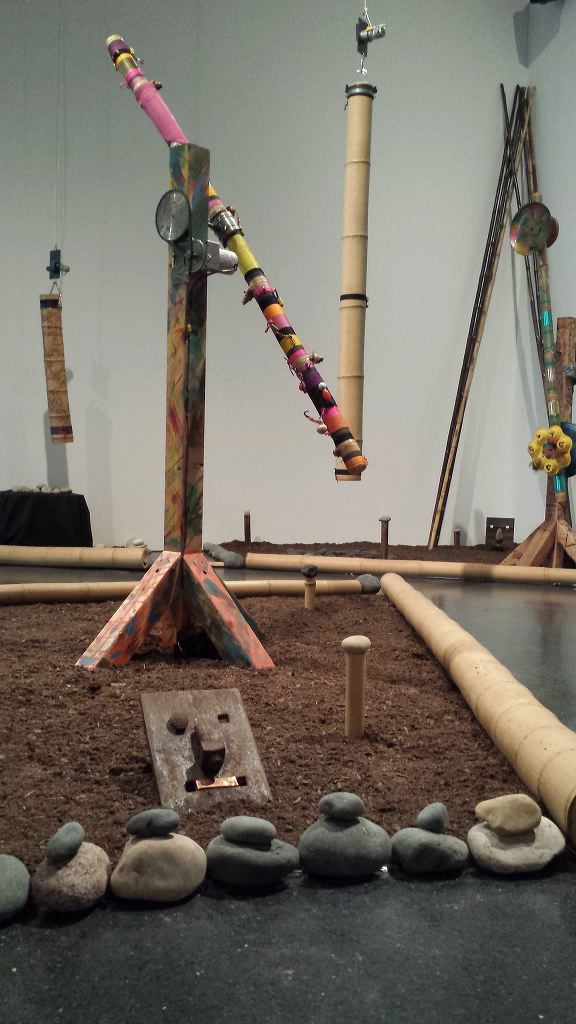 Douglas's 2015 pics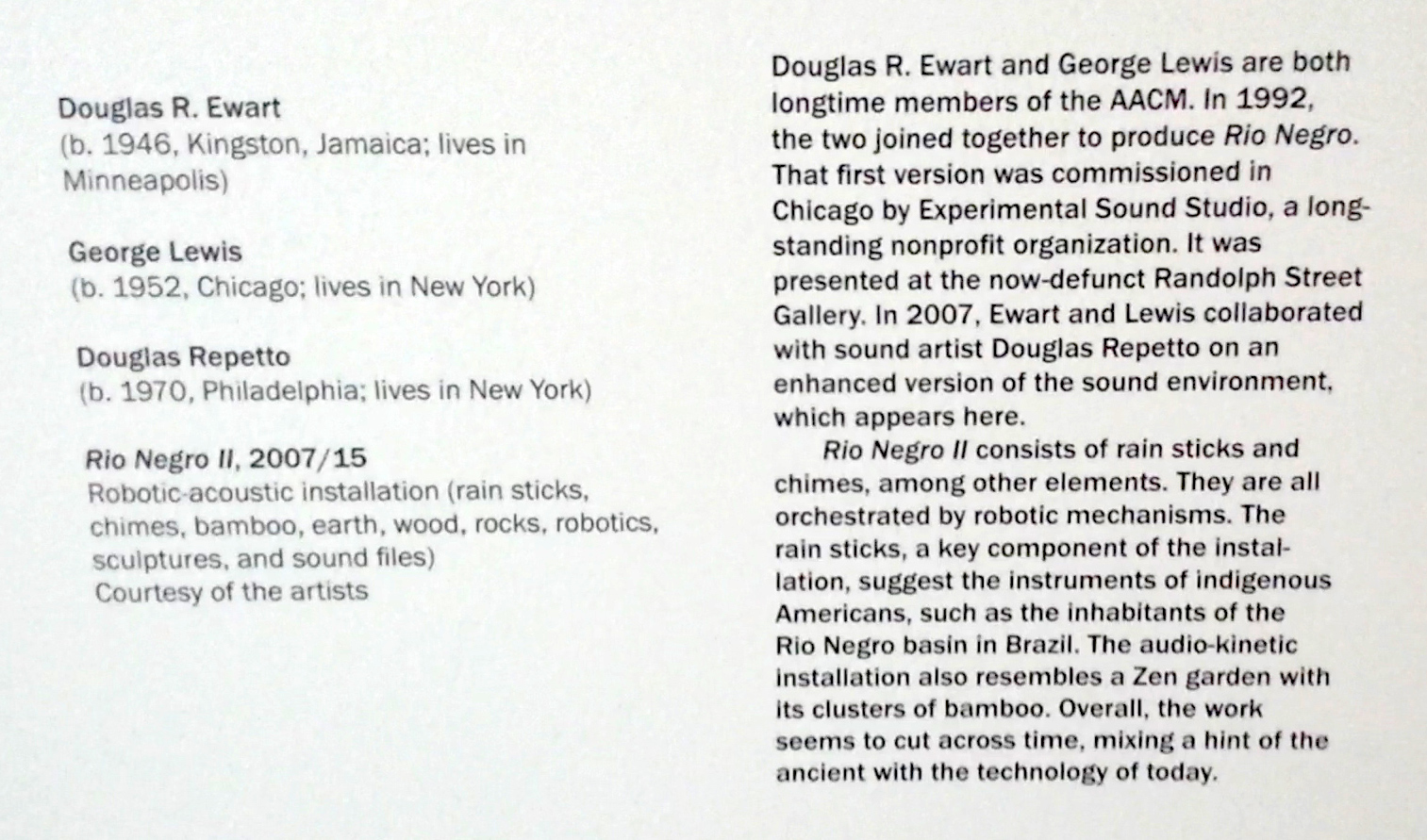 2015 wall text



MCA Chicago's 2015 pics




Douglas's 2007 pics & video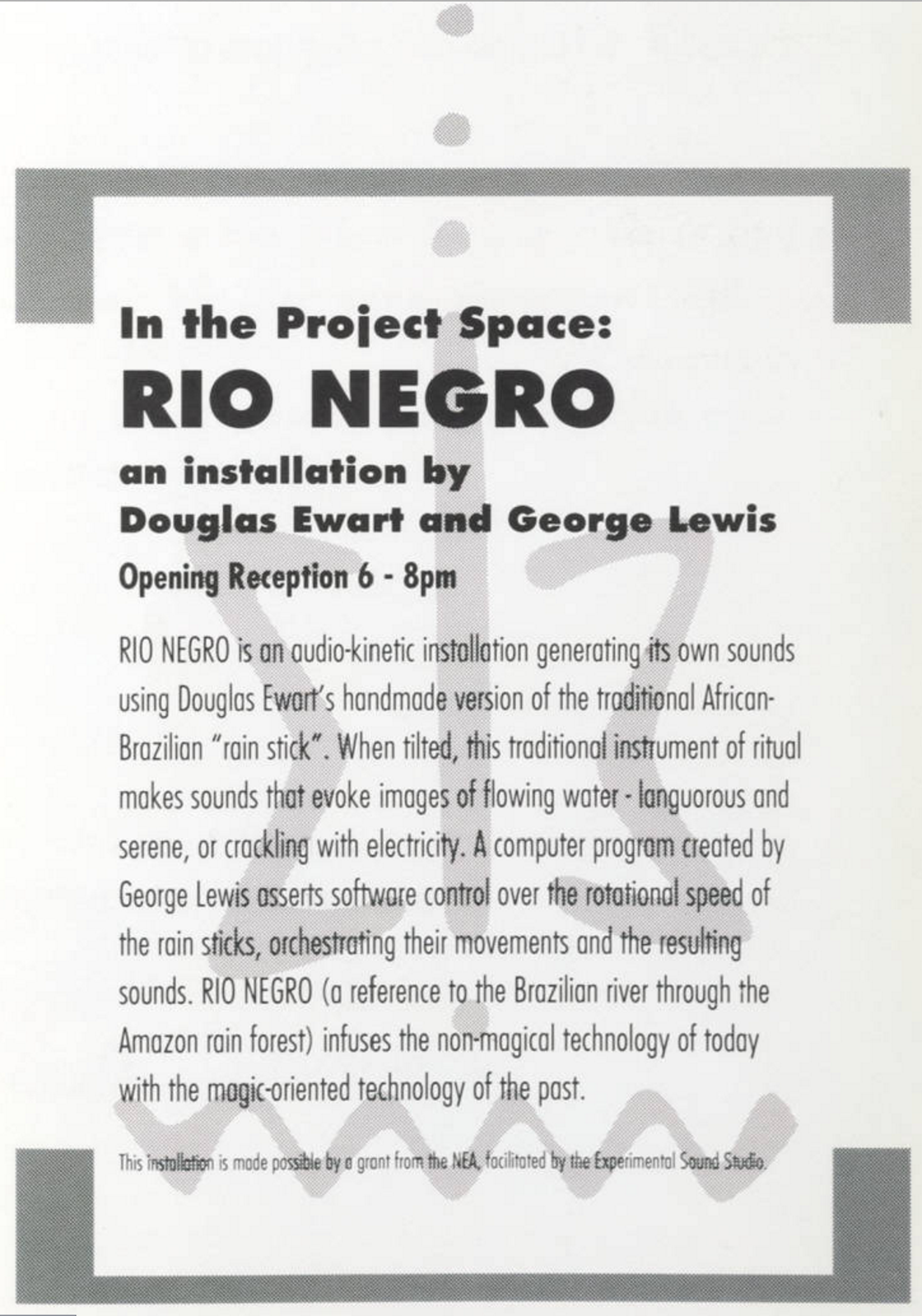 Announcement for 1992 version
at Randolph Street Gallery,
Chicago